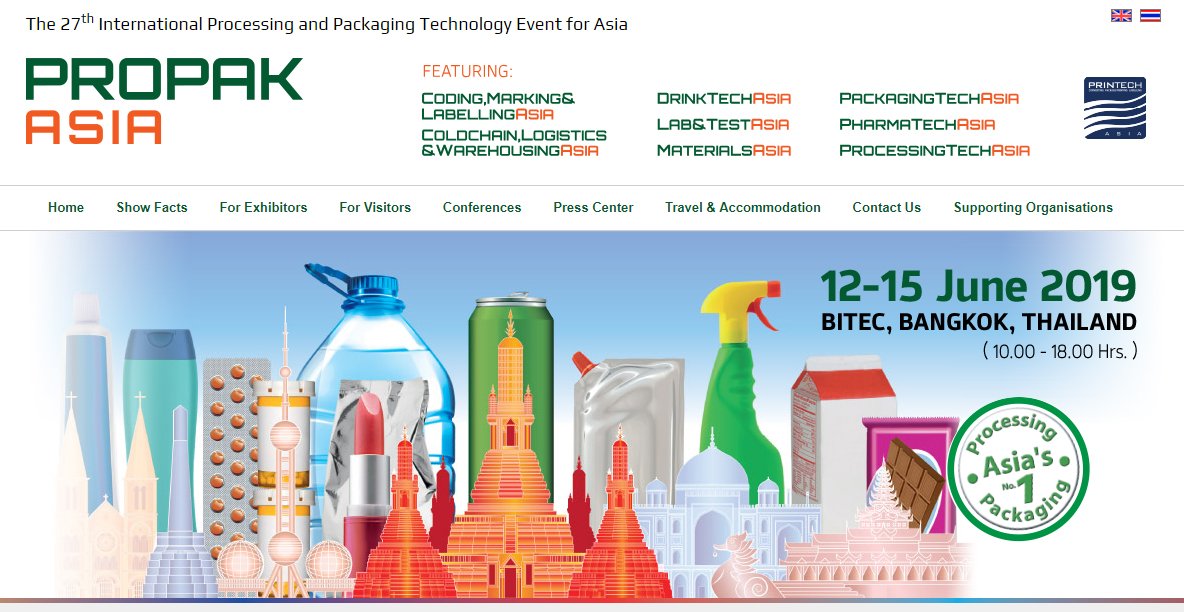 ProPak Asia 2019 The 27th International Processing and Packaging Technology Event for Asia

Wednesday 12 – Saturday 15 June 2019, 10.00-18.00 Hrs.

Hall 98 – 106, BITEC, Bangkok, Thailand

Incorporating

In-conjunction with


Official Support


Agro-Industry Academic Council Association (AIAC)
Amec-Envasgraf
Association of Small & Medium Enterprises (ASME)
Australian Institute of Packaging (AIP)
Australian Packaging and Processing Machinery Association
Bavarian Ministry of Economic Affairs, Infrastructure, Transport and Technology
Bayern International
Business France
Cambodia Association of Food Science and Technology (CAFST)
Cambodia Business Association (CBA)
Confederation of Danish Industry - Dansk Industri
Department of Fisheries (DOF)
Department of Industrial Promotion: Ministry of Industry (DIP)
Design & Engineering Consulting Service (DECC)
Federation of Institutes of Food Science and Technology in the ASEAN (FIFSTA)
Food Industry Asia (FIA)
Food Science and Technology Association of Myanmar (FoSTAM)
Food Science and Technology Association of Thailand (FoSTAT)
GS1 Thailand: Federation of Thai Industries
Incheon Business Information Techno Park (IBITP)
Indonesian Packaging Federation
Italian Packaging Machinery Manufacturers Association (UCIMA)
Japan Packaging Institute (JPI)
Japan Packaging Machinery Manufacturers Association (JPMA)
Korea Packaging Machinery Association (KPMA)
Myanmar Food Processors and Exporters Association
Myanmar Industries Association
Myanmar Pharmaceutical & Medical Equipment Entrepreneurs' Association
Packaging Institute of the Philippines
Packaging Machinery Manufacturers Institute (PMMI)
Processing And Packaging Machinery Association (PPMA)
Science and Technology Trade Association (STTA)
Taiwan Plastics Industry Association
Technology Promotion Association (Thailand-Japan)
Thai Beverage Industry Association
Thai Food Processors Association (TFPA)
Thai Frozen Foods Association (TFFA)
Thai Packaging Centre (TPC)
Thailand Convention & Exhibition Bureau (TCEB)
Thailand Institute of Scientific and Technology Research (TISTR)
The Board of Investment of Thailand (BOI)
The Federation of Thai Industries (FTI)
The Indonesian Food and Beverages Association (GAPMMI)
The Pharmaceutical Industry Association Thailand (PIAT)
World Trade Center Taichung (WTCT)


Exhibitor Profile


Aseptic Processing & Packaging
Automation and Robotics
Bottling Technology
Brewing and Beverage Technology
Canning & Can Making
Coding, Marking, Labelling, Printing Materials & Technology
Confectionery Equipment
Cosmetic & Personal Care Processing and Packaging
Dairy & Liquid Processing Technology
Facilities Equipment, Systems and Supplies
Fish & Seafood Processing Technology
Flexible Packaging Technology
Food Ingredients, Additives & Flavourings
Food Processing Machinery
Food Safety & Hygiene Technology
Laboratory, Testing & Measurement Equipment
Logistics & Production Facility Equipment
Machinery Controls & Components
Materials Handling, Logistics & Storage Equipment
Meat Processing & Packaging Technology
Measurement & Weighing
Packaging Accessories
Packaging Machinery
Packaging ( Cardboard, Glass, Metal, Plastic, Paper, Wood )
Palletizing and Conveying Equipment
Paper & Corrugated Box Making Technology
PET & Plastics Packaging Technologies & Materials
Pharmaceutical Processing & Packaging
Quality Control
Production Machinery
Raw Materials & Consumables
Refrigeration Systems/ Cold Storage/ Air Conditioning
Service Companies
Solids and Bulk Handling
Trade Publications
Waste Management & Environmental Technology
*These lists are for guidance only and are not exhaustive.

Visitor Profile


Agro Industries
Beverage Producers
Bottlers
Brewers
Canners
Chemical Producers
Confectionery Manufacturers
Consultants
Consumer Goods Manufacturers
Contract Packers
Confectionery Manufacturers
Cosmetics & Personal Care Manufacturers
Diary Product Manufacturers
Dehydrated Food Manufacturers
Fish & Seafood Processors
Food Exporters
Food Retailers/ Distributors/ Wholesalers
Food Scientists
Frozen Food Manufacturers
Government, Education & Associations
Machinery Importers & Distributors
Packaging Material Manufacturers
Pharmaceutical Manufacturers
Preserved Food Manufactures
Processed Food Manufacturers
Quality Controllers
Refrigeration/ Cold Storage Engineers
Retail Packagers
Snack Food Manufacturers
Water Treatment & Environmental Engineers
*These lists are for guidance only and are not exhaustive.

Organiser
UBM Asia (Thailand) Co., Ltd.
Contact: Ms. Padivorrada Thawonsakunwong
Email: padivorrada.t@ubm.com

Asian Associate
UBM International Sales Office – Asia
Contact: Mr. Jeffrey Au
Email: jeffrey.au@ubm.com

Worldwide Associate
UBM International Sales Office
Contact: Mr. Marek Szandrowski
Email: marek.szandrowski@ubm.com

Statistical data from ProPak Asia 2018
Total visitors 48,799 from 79 countries.
1,581 participants from 44 countries.

International Pavillions from
18 from 13 countries - Australia, x2 China, Denmark, France, x2 Germany, Italy, Japan, x2 Korea, Singapore, Spain, x3 Taiwan, United Kingdom and The USA.